Linked Classes
What are Linked Classes?
Linking is used to connect class sections of the same course when it is required that two class components be taken concurrently. For example, a lecture class is linked to one or more non-lecture components which are usually defined as a lab, recitation, discussion, or clinic.
| | | | |
| --- | --- | --- | --- |
| Linked Courses | Linked Courses | Linked Courses | Linked Courses |
| BIOL-1203 | BIOL-1204 | BIOL-1510 | BIOL-1520 |
| BIOL-1800 | BIOL 4950 | BIOL 4951 | CCTP-5005 |
| CHEM-2105 | CHEM-3105 | DSAN-5100 | DSAN-6000 |
| ECON-1003 | ECON-6001 | ECON-6005 | ECON-6012 |
| GOVT-1200 | GOVT-1400 | GOVT-1600 | GOVT-1800 |
| HIST-1099 | HIST-1104 | HIST-1107 | HIST-1308 |
| HIST-1401 | HSCI-1030 | HSCI-2010 | HSCI-3550 |
| MATH-1040 | MSFO-6820 | MSFO-6821 | MSFO-6830 |
| MSFO-6831 | MSFO-6832 | MSFO-6834 | NURS-5005 |
| PHIL-1100 | PHIL-1500 | PHIL-1900 | PHYS-2051 |
| PSYC-2000 | STIA-3005 | STIA-3005 | |
List of Linked Courses for Fall 2023*
* Subject to change. Refer to the schedule of classes for the latest information.
How to Identify a Linked Class in the Schedule of Classes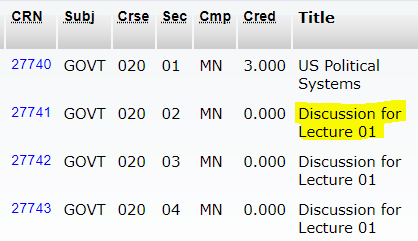 ---
Search the Schedule of Classes
Log into MyAccess to view the schedule of classes.
Review the class titles to learn which classes are linked
Descriptive section text will help identify linked classes
Write down the five-digit course reference numbers (CRN) for both linked classes in order to register
---
How to Register for Linked Classes
---
Add/Drop/Swap Linked Classes
Add – Students must register for both linked classes concurrently. Students will not receive a repeated error for linked classes.
Drop – Students may not only drop one class. Once a student submits a drop request, they will receive a warning message informing them both linked class sections must be dropped (video). If the student confirms the drop option, both classes will be dropped.
---
Registration Error Messages
You cannot register for only the lecture class or only the non-lecture section. Students will receive an error message "Linked course required" if they attempt to only register for one linked class. The error message will hyperlink to this page to assist students.
Review the Solutions to Registration Barriers to learn about specific error messages.
---
Waitlist For Linked Classes
Because the classes are linked and there are enough corresponding seats — only discussion/recitation (non-lecture) classes have a waitlist; the lecture class does not have a waitlist in order for the linking to work. The total number of combined discussion/recitation seats equals the total lecture seats.
TIP: If your preferred lecture class is full, students only need to waitlist for a matching linked discussion/recitation (non-lecture) class. Once you win a seat off the waitlist, you will automatically be able to enroll in both the lecture and the linked discussion/recitation section. Winning a seat in a non-lecture class guarantees a seat in the matching linked lecture.
TIP: If you win a waitlist seat in a discussion/recitation (non-lecture) class, you will be able to claim a seat in the corresponding linked lecture class, as well. You may claim your waitlisted seat by swapping into the class section.
TIP: Swap does not drop – If you are already in your preferred lecture and only want to change a linked discussion or recitation class, swap into the open class section.
---
Degree Audit/ Transcript Information
The lecture class (which is graded) will show on the transcript and in MyDegree.
The non-lecture (discussion/recitation/lab) class (which is not graded) will not show on the transcript nor in MyDegree.
---
Quick Reference Guide
Review this Quick Reference Guide (QRG) for step-by-step instructions on how to search, add, drop or swap linked classes.
---