Summer Institute in Law and Practice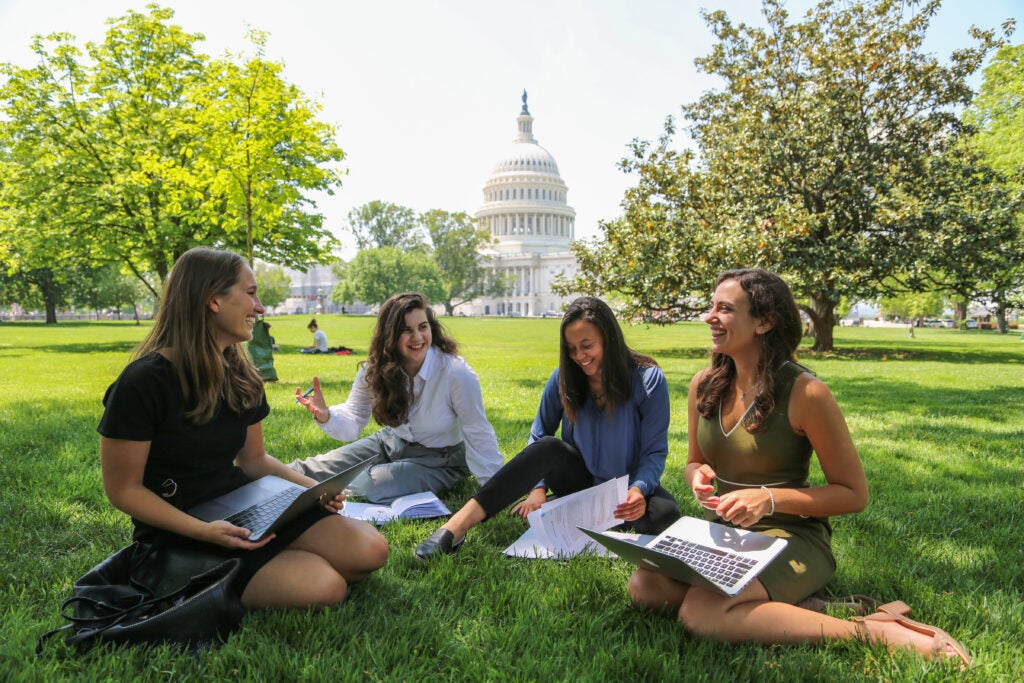 Are you interested in the study and practice of law? Are you looking for an opportunity to learn more about what it means to practice law at the highest levels? Do you relish the idea of interacting with talented and accomplished legal professionals? Are you seeking to learn more about constitutional and international law in an intensive setting with Georgetown faculty members experienced in both the classroom and the courtroom?
If you answered "yes" to any of these questions, then you should apply to participate in the inaugural Georgetown University Summer Law Institute in Law and Practice taking place this summer. The Institute is an intensive, ten-week undergraduate program running from Monday, June 5 – Thursday, August 11, 2023. Featuring four three-credit courses: International Law, Constitutional Law I, Constitutional Law II and Law Practicum, for a total of twelve credits.
The deadline for applications is Friday, April 7, 2023 by 5:00 PM EDT.
Overview
The Georgetown University Summer Institute in Law and Practice is an all-inclusive summer program designed to provide currently matriculated Georgetown undergraduate students with an elite-level academic experience while offering a packaged price. This Institute serves as a professional introduction to the study of law, and the profession of law as practiced at the highest levels. If you are an undergraduate student considering a legal career, or are interested in the academic study of law, this experience is designed for you.
The Institute features three key components that work together to further the student's interest in and understanding of, the study and practice of law: (1) a Coursework Component; (2) a Research Component; and (3) an Experience Component.
The Coursework Component includes four three-credit courses: International Law, Constitutional Law I, Constitutional Law II, and a Law Practicum. All four courses are taught by Georgetown faculty possessing academic credentials in both political science and law, extensive classroom experience, and professional experience practicing law in both the private sector and government service.
The Research Component of the Institute requires students to complete a long-form research paper addressing the student's chosen area of legal scholarship as part of the Law Practicum course.
Finally, through the Institute's Experience Component students will participate in weekly meetings offering them the opportunity to interact with and hear from members of the state and federal judiciary, Georgetown University law professors, accomplished attorneys in private practice, government lawyers at the local and federal level (including counsel at the Department of Justice and on Capitol Hill),attorneys serving as in-house corporate counsel, attorneys working in public interest law, and law students currently attending T-14 schools.
All students will receive a minimum $6,000.00 stipend towards this program to include Tuition, Housing, and Dining fees. The stipend will be applied to students' account balances, and will reflect via billing.
Application Process
There are minimal prerequisites to be considered for the Institute, such as a basic understanding of the American political system (recommended), and a cumulative GPA to date of a 3.0 or higher.
Student applications to the Institute must include:
A 250-300 word Statement of Interest (in which students explain why they would like to participate in the program)
A Contact Reference from one professor, faculty member/advisor, or teaching assistant to speak to the student's academic performance/talents – Please include Name and Email Address
A most recent copy of the student's Unofficial Transcript
Honor Council Violation Explanation (if applicable)
As noted, the deadline for applications is Friday, April 7, 2023 by 5:00 PM EDT. Please deliver hardcopies of your application materials to Professor Joseph Hartman, Summer Institute in Law Program Director, Department of Government, ICC 681.
Applicants will be evaluated by a three-member Government Department faculty committee based on prior academic performance and the quality of Applicants' Statement of Interest. Applicants will be notified of decisions via email on or before Friday, April 14, 2023.
At the end of the ten-week Georgetown University Summer Law Institute, students will receive all 12-credits, a certificate of completion, and will gain a firsthand understanding of what it means to study and practice law in Washington, D.C. at the highest level. Students will be well-equipped to decide whether pursuing a law degree is in their future.
Students should consult with their dean for academic advisement or for academic questions contact Joseph Hartman via Jeh93@georgetown.edu (new window) . For pricing and questions related to program costs students can email Braysia.Hicks@georgetown.edu (new window).
Frequently Asked Questions
Timing and Content
Cost, Logistics & Practical Information
Applying to the Institute
Summer Law Institute Courses